PRGF®-Endoret® Technology+ LLLT Therapy
BTI's research team has developed the therapeutic use of plasma rich in growth factors (PRGF®-Endoret®). It is a technology that allows the use of the organism's own resources with extraordinary results in many pathologies, effectively regenerating tissues without side effects and notably reducing the recovery period of fractures, muscular and tendinous injuries, and surgical interventions.
What are growth factors?
They are proteins that we all have and which carry out an essential function in complex processes of tissue repair and regeneration.
They are naturally found in the plasma of each individual and inside platelets. The therapeutic application of growth factors stimulates and accelerates the processes of tissue healing and regeneration.
What advantages does PRGF®-Endoret® offer?
100% biocompatible, versatile and safe.
It is the market's first 100% autologous technology.
Control over its activation and use.
A simple protocol: just one centrifugation.
A fast protocol: just 8 minutes of centrifugation and 20 minutes of preparation..
Its clinical efficiency in the stimulation of tissue healing and regeneration has been described in a large number of international articles.
It does not contain leucocytes, avoiding their proinflammatory activity.
Powerful bacteriostatic properties.
Excellent therapeutic potential in different clinical applications.
In none of the treatments carried out over the years have any undesired effects been observed.
What sets PRGF®-Endoret® Technology apart from other technologies in the market?
It is a pioneer (Patent no EP1066838) in the development of specific protocols for tissue regeneration.
It is backed by a large number of international scientific studies and publications.

It is the only technique that holds the obligatory health certifications required for each one of the following applications:

Healing of venous ulcers
Consolidation of bone fractures and grafts
Fixation of prostheses in the hip, knee, etc.
Oral implantology
Injuries and breakages of ligaments, muscles and tendons
Treatment of skin burns, injuries and lesions
Regeneration of aged skin

It is a versatile system that makes it possible to create different formulations that adapt to the characteristics of each application.
Excellent efficiency of the volume of blood extracted with this system.
Applications:
The latest advances in medicine are increasingly leading to the adoption of new minimally invasive therapies and procedures. In this respect, PRGF®-Endoret® has opened new paths and therapeutic approaches thanks to its accessibility and reparative capacity.
PRGF®-Endoret® is applicable in many fields of medicine, where its high level of efficiency in the regeneration of different tissues has been proven: bone, skin, oral mucosa, tendons, ligaments, muscles, cartilage, cornea, covering all medical specialities such as: oral and maxillofacial surgery, orthopaedics and sports medicine, dermatology, ophthalmology, vascular surgery, plastic and cosmetic surgery and even veterinary surgery. 
Odontology
The field of medicine that pioneered the use of PRGF®-Endoret®.
Traumatology
Top-level sports players and personalities have benefitted from its effects.
An alternative to the healing of wounds that have difficulty scarring and an innovative treatment that achieves a very natural facial rejuvenation.
Initial advances in ophthalmology with excellent results..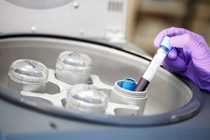 At BTI we are carrying out important research and making an enormous clinical effort to develop new formulations and protocols for the application of PRGF®-Endoret® with the aim of improving the treatment of a wide range of clinical situations.